Before the mid-eighteenth century, instilling a Christian Worldview or "Paideia" was the purpose of nearly all Western education. This was based, in part, on Ephesians 6 that commands fathers to raise their children in "the discipline and instruction (paideia) of the Lord." Education sought to bring an inner transformation to the student. It cultivated the students' habits of thought and action in order to view the world with certain foundational truths and thereby align their desires with God's ideal. Classical Christian education's objective, then, is to shape the virtues and reason in our students so that they will be in line with God's will. In other words, our objective is to cultivate a Christian Paideia in students.  Tens of thousands of parents are embracing classical Christian K-12 schools because they can see the difference. Classical Christian Education starts with a different purpose and ends with different results than conventional education. 
We use children's God-given strengths at each stage of growth to help them learn; young children (grades K-6) enjoy memorizing, so a solid foundation is laid in each subject of study using repetition, singing, and rhymes. Handwriting, grammar, spelling, and math skills are practiced and mastered. 
Junior high students are inquisitive and naturally begin to develop logical thinking skills.  Our students take three semesters of Logic to cultivate and better form their ability to analyze information critically and arrange facts into organized statements and arguments.
High school students are ready to talk, so we teach them the art of communicating well. They take the knowledge they've learned and express themselves articulately and persuasively through speech and papers.  The result is a fully educated graduate who knows what they believe and why, and can positively impact the community around them.
Our students study and memorize scripture from Preschool through Grade 12.  The study of the Bible is not limited to a Bible class, but is integrated into all subjects as a tool to be memorized, studied, and understood. We view the Bible as God-breathed and inerrant. 
Want to know more about Classical Education?
We recommend "Shaping Hearts and Minds: Why it Matters Where Your Child Goes to School" by Monica Whatley.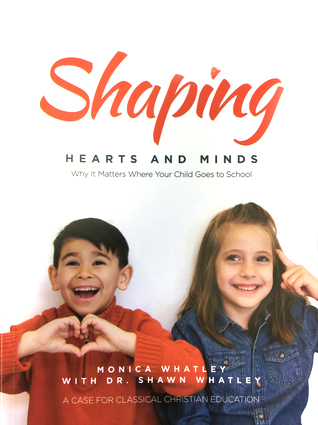 This short book offers a snapshot of the essentials of Classical Christian Education, and how it compares to all other forms of education.  You can read why this flourishing approach to learning is inspiring, equipping and shaping the hearts of students.  We would love to send you a free copy!
Articles for additional reading:
"Shaping Hearts and Minds" Book Request
classical parent university (cpu)
It is important for our enrolled families to fully grasp the scope and blessings of a Classical Christian Education.
CPU helps WCA families engage with one another in discovering a deeper understanding of what happens within the walls of WCA and how we can best partner together!  Explore CPU