Top 10 Questions Parents Ask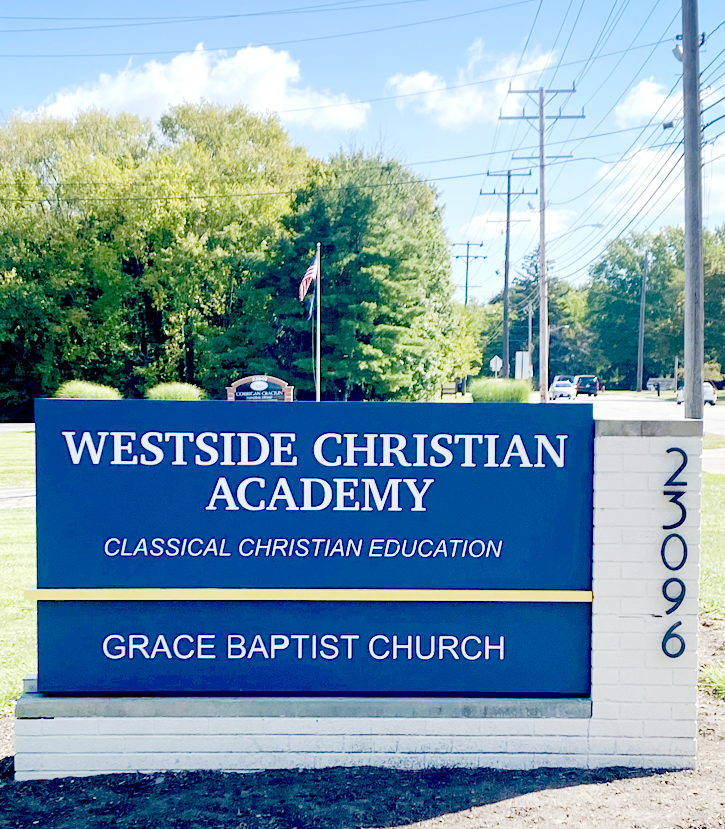 1.  Where are you located?
Westside Christian Academy is located on the west side of Cleveland about 12 miles from downtown, in the city of Westlake.  From our school there is easy access to I-90 and I-480.  In 2018 we purchased our building from Grace Baptist Church.  From the road we may look more like a church, but we invite you to come see the inside which has been transformed into a school.  We are in the midst of a Capital Campaign to add new classrooms, gymnasium and front entrance. 
Most families live within a 20 minute drive from the school.  However, some families successfully commute 40-50 minutes each way to get to school.
2.  How does your Christian school compare with other private schools?
We are a discipleship school which means that we are intentional about admitting students from Christian families with homes where biblical values are foundational.  This has a direct impact on the school culture and type of students you will find at WCA.   We are not associated with any particular church or denomination. Our families represent about 50 churches in the area, united by a commitment to the truth of the Gospel. 
At WCA, our kids pray together throughout the day, attend chapel weekly and have a daily Bible class, but more than that, our teachers are intentional to help students see how Christ is woven into all subjects throughout the day.  In science, math and literature we are shaping the affections of our students to the highest Good, Jesus Christ.    
We are a Pre-K-12 school with about 290 students and an average class size of 14.  Chartered by the State of Ohio, WCA is an active member of both the Association of Christian Schools International (ACSI) and The Association of Classical and Christian Schools (ACCS).
3.  How do you choose your curriculum?
One of the great freedoms we have is the ability to choose our own curriculum.  At WCA, we research and select the curriculum we believe is best for each subject at each grade level. When it seems best to combine material from several different sources – including materials we create ourselves – we do that too! From Singapore Math, Veritas Bible, and The Hobbit in Grammar School, to Dante's Inferno and MacBeth in Upper School, we choose textbooks and classic literature that guide students to in-depth learning and critical thinking skills.  We also systematically review our choices and make improvements whenever we find a better fit.
4.  Do you give standardized tests?
We understand that no parent wants to think their child's education is centered on the preparation for a single test dictated by the state. At WCA, we are not required to participate in state testing, which allows us to determine how time in the classroom is best spent. 
However, we choose to conduct annual standardized tests for our own internal purposes, to gauge how well our students are doing compared to national norms. (Inside info: They do very well!) We do not spend any classroom time teaching toward these tests. We simply carve out a few mornings a year for the tests, then finish out the year with our regular academic routine.   Grades 1-6 take the Iowa and CogAt tests and grades 7-12 the PSAT and CLT.  
The data from these tests proves our academic model. Studying Latin, grammar and composition, developing critical thinking skills, learning how to think about math, and not just how to do math – contributes to a well-educated mind which results in high standardized test scores.
5.  What are the hiring requirements for your teachers?
Have you ever thought about how much time students spend with their teachers? If they are in school seven hours a day, five days a week, nine months a year, from Kindergarten through graduation, that's more than 16,000 hours – not including time for extracurricular activities! Then consider the fact that students learn a lot more than "reading, writing and arithmetic" from their teachers. Students are molded by the way that teachers around them communicate, interact with each other, handle conflict, and by the level of joy they display in their work. 
We want to place adults in front of our students that you would want them to model their life after. This means the hiring requirements at WCA are lengthy. In addition to the "bachelor's required, master's preferred" academic requirements, every teacher and staff member at WCA has expressed their personal commitment to making Christ preeminent in their own lives.  They are purposeful in their pursuit of godliness and excellence in their jobs. They are lifelong learners and they participate in regular, ongoing training in their subject-matter area and in the methods of Classical Education.
6.  What is the school's position on technology?
Because we have found there to be no conclusive research showing that education is enhanced when students are in front of a screen during the school day, the technology used at WCA is intentionally limited, only occurs when it can help take learning to the next level, and never is a substitute for face to face instruction.
Our Upper School students write papers and essays regularly. Therefore, each receives a chrome book that can be used for researching and writing, but again this technology is never a substitute for in-classroom instruction.
For our students who have cell phones, their phones must be turned off and in their lockers during school hours. As a result, WCA students are phone-free for at least seven hours a day. This policy helps ensure that students are engaged and free from distraction both in classroom discussions and in social interactions.
7.  What extracurricular activities do you offer?
As we grow, our offerings continue to grow, and we encourage students to engage in various options to explore gifts and talents they might not have discovered otherwise. 
Clubs: Ski Club, Chess Club, Drama Club, Academic Quiz Bowl, Baton Twirl Club, Golf Club, 5K Running Team, Book Club (Some offerings are determined year to year based on student involvement and leadership availability). 
Sports:  WCA is in the process of developing a high school sports program for the 2022-23 school year. In prior years, High School students at WCA who wished to participate in sports either played for their home public school district or joined the sports teams offered through Hearts For Jesus Christ whose teams in recent years have won both state championships and national tournaments. 
Fine Arts: In addition to a commitment to Fine Arts as part of our curriculum, theatre productions, musicals, chorale performances, and art competitions are available to students . Our annual Evening with the Arts is a beautiful event that showcases student music, drama, and art accomplishments. 
8.  What does parent participation look like in your school?
Parent partnership is a key part of our success. At WCA you will see parents joining their children's class for lunch, driving for field trips and organizing class parties. They coach athletic teams, serve on committees and even spruce up the landscaping when needed.  We recognize our parents have varying daily commitments and for that reason, we do not require volunteer hours.  Rather, our parents serve when they can because they love the school and want to use their time and gifts to help us thrive.  
At home, parent partnership involves helping with homework, helping students get to and from school on time, and for the older students, sometimes it means letting them learn the hard way when they forget something!  Partnership also includes parents staying up to date on the school by reading weekly communication and newsletters. Our parents participate in Parent/Teacher Conferences and engage in regular communication with their children's teachers.
9.  What is my investment?
Private education requires a commitment on the part of parents. It is a commitment of time, engagement and finances. Whether it is helping with homework, cheering at a basketball game or paying tuition, our parents make sacrifices.  WCA families share a conviction that the school years are formative and how a child is educated will directly impact who they are to become. 
The desire to educate children with a Bible-based worldview cuts across socioeconomic boundaries.  This unity and diversity should also be reflected in our school. It is WCA's desire that classical Christian education be made available to those to whom the associated costs might seem prohibitive, such as single-parent families and families with economic challenges. Full tuition currently ranges from $7,800 in Grammar School to $9,800 in Upper School. Need-based financial assistance is available, up to 40 percent per family. 
10.  Where do your graduates go to college and what do they major in?
WCA graduates are scattered around the United States! They've attended universities from California to Virginia.  Some have chosen Christian colleges such as Cedarville University, Boyce College, Grove City College and The Masters University.   Others go on to public universities both in-state and out-of-state.  Our students have been accepted into programs such as engineering, nursing, mathematics, education, english, honors programs, and business. Our alumni have reported feeling exceptionally well prepared for college, completing long papers and challenging research projects with a competence level that often exceeds their peers.